Choose Performance
Pure Guard lubricants — whether mineral or synthetic oil-based — are developed by working closely with leading equipment builders. Pure Guard engineers gain deep insights into equipment trends and lubrication requirements to guide our lubricant researchers and formulators in designing highly effective lubricants — providing the exceptional and balanced performance required for today's automotive engines.
Treat Your Vehicle Right
Pure Guard Motor Oils are modern oils for modern work – protecting all types of gasoline engines, even those that are turbo or supercharged. Formulated with state-of-the-art additives and base stocks, Pure Guard is formulated to meet or exceed all new car manufacturers' warranty requirements as well as stringent global standards such as API SP / ILSAC GF-6 / ACEA C3.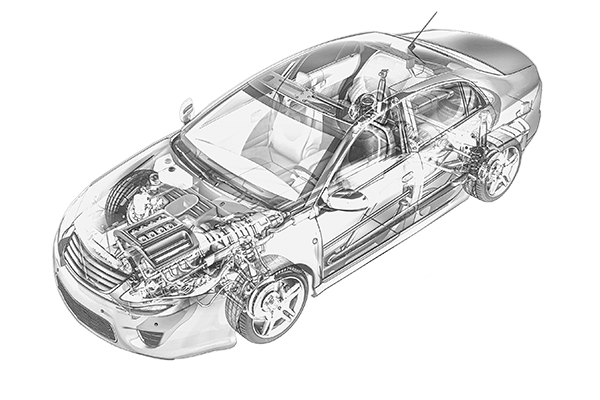 Automatic Transmission Fluids
Automatic transmission fluid (ATF) isn't as simple as it used to be. Choosing between DEXRON, MERCON, Global and CVT isn't as simple these days. Pure Guard has the right fluid for your vehicle.
Gear Lubricants
Pure Guard gear lubricants are formulated to help protect and extend the life of transaxle, rear axle and differential gears. They provide outstanding protection, even in some of the most extreme operating conditions. Designed to help meet the highest-level performance requirements of modern passenger vehicles in all types of operating conditions including limited slip applications, as well as, deliver outstanding power transfer performance.
Automotive Greases
Pure Guard greases meet the requirements of the National Lubricating Grease institute (NLGI). It is recommended for automotive applications at both high and low temperatures. Pure Guard greases meet GCLB and is particularly suited for applications such as disc brake wheel bearings and ball and steering joints. It will provide outstanding bearing protection under heavy loads at any highway speed, and where moisture or condensation is a factor.
Looking for Customer Resources?
Certifications  |  Guides  |  Permits  |  Marketing Materials  |  Product Videos