Pure Guard total engine protection
Pure Guard Friction Protection Technology™ is an advanced additive package specifically developed to meet & exceed API CK-4 performance. Fleet owners can take advantage of the simplified logistics and flexibility offered by Pure Guard heavy-duty engine oil. Friction Protection Technology™ provides exceptional protection for on- and off-road applications while providing the potential for fuel economy improvement beyond just lower viscosity oil. This new fluid offers advanced chemistry resulting in durability for all heavy-duty applications.
New Chemistry = Better Fuel Efficiency
Using new Pure Guard Friction Protection Technology™ improves fuel economy and reduces operating costs and total cost of ownership (TCO). Fuel economy improvement has been demonstrated beyond viscosity reduction. Friction Protection Technology™ reduces friction on metal-to-metal contact surfaces, protecting vital engine parts from premature wear, and includes API FA-4 benefits of improved fuel economy.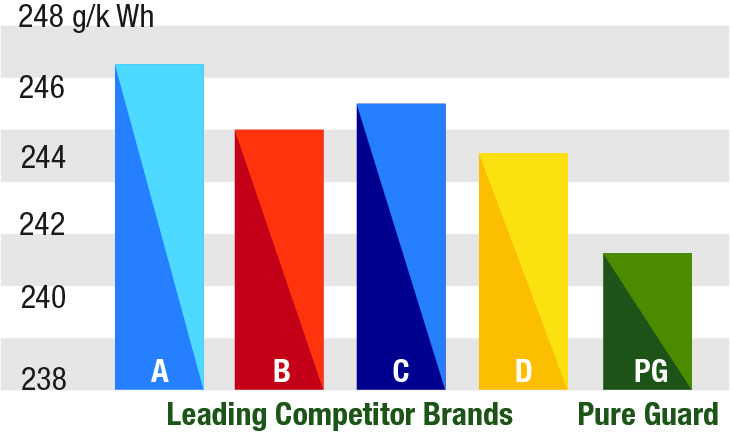 Diesel Engine Oils
Unparalleled performance in industry deposit control and wear tests. Your engine stays cleaner longer, minimizing varnish and sludge formation. Metal-to-metal surfaces such as follower to camshaft and piston ring to liner are protected by industry-leading anti-wear chemistry allowing for longer engine life and more equipment up time, whereby optimizing your total cost of ownership (TCO).
Transmission Fluids
Pure Guard is designed to meet the demanding requirements of modern heavy-duty automatic transmissions. Both manual and automatic transmission fluids are designed to help extend transmission life and meet OEM warranty requirements.
Gear Lubricants
Pure Guard gear oils are GL-5, MT-1 approved and engineered for performance in heavy-duty commercial drivetrains where extreme pressures and shock loading are expected. These high-performance gear oils can help increase fleet efficiency and reduce downtime in on- and off-highway industries, including long- and short-haul trucking, construction, mining, quarrying and agriculture.
Greases
Pure Guard greases are designed for a variety of on- and off-highway applications, meeting the fleet lubrication needs of heavy-duty trucks, mining, construction and farm equipment. These high-performance greases can enhance load-carrying capability due to their extreme-pressure protection and excellent corrosion and water-resistance properties.
Looking for Customer Resources?
Certifications  |  Guides  |  Permits  |  Marketing Materials  |  Product Videos